What is IT and Business Analysis?
IT and Business Analysis is study of needs to realize changes in an organization. Analysis activities are on a continuum from generic business-oriented to detailed and IT-oriented.
Best way to understand the analysis roles is to go through the process of project.
Simplified project process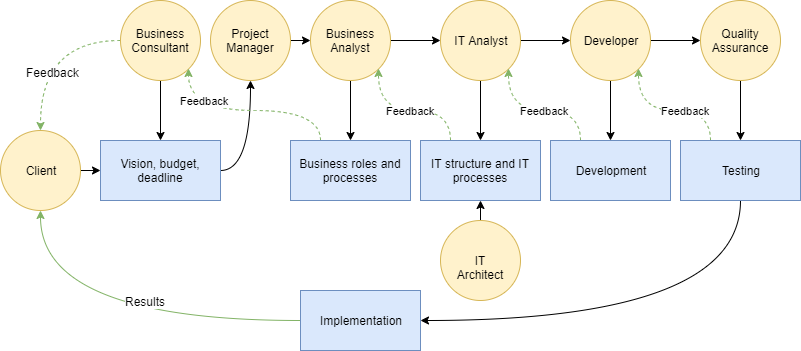 A project starts when the Client has created a vision for a business model or change in the organization. They define the model for change with the help from Business Consultant. Their goal is to verify that the change is worth pursuing. The main results from this process are definition of vision, budget and deadline.
If the project is worth pursuing, they find a Project Manager to control its execution. He/she will include other roles to the project, as necessary – Business and IT Analysts among others.
Next, Business Analyst defines the business organization and processes based on the vision. They might need workshops with people involved to find all needs. Business Analyst might also discover ways to improve the model of the vision, which they will relay to Client. Often they discover changes needed in existing IT-systems or need for new ones. In this case, they will involve IT Analyst.
IT Analyst defines the details of IT-systems and their interactions. They use business processes and workshops with people involved to understand the needs. They might discover ways to streamline the business processes using the IT-systems. In this case they will work with Business Analyst to improve them.
IT Analyst includes IT Architect to define the structure of the IT systems. This includes components of the systems as well as interactions between systems. They consider non-functional specifics like performance and security to find the solution. IT Analyst then defines how the processes use this structure.
The designed solution is then:
realized by the Developer
tested by Quality Assurance engineer (or Tester)
approved by all the above roles for implementation
and implemented through both technical and other activities;
results interpreted by Client, who may start next project for any improvements.
Differences
Above description looks like the dreaded waterfall model, but this doesn't need to be the case. One person can be in all these roles, as is often the case in smaller projects or with agile methodologies. Yet, in bigger projects the roles may be even more specific:
User Interface Analyst
Database Analyst
Integrations Analyst
etc.
It is easier to understand the roles and responsibilities when broken down like this. We will be using the roles on this page as defined in this simplified process. The IT and Business Analysis Club focuses on the roles of Business Analyst and IT Analyst.